Research
Research projects in biogas production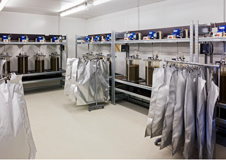 The research facility at ISF Schaumann Forschung performs trials using constantly operating pilot plants.
With 150 biogas batch fermenters in sizes ranging from 1 litre to 30 litres to up to 60 litres, and 24 continuously operating biogas mini-systems of 18 litres, the ISF has the largest privately-operated capacity for research opportunities in the biogas sector.
Since 2009 Schaumann BioEnergy has been using a 776 kW pilot biogas plant at Gut Hülsenberg. The necessary substrates for the silage trials can be provided here quickly and easily.
The various success factors in the methane formation process can be investigated on a production scale.
To the download
Here you will find detailed information about the Schaumann BioEnergy research projects.