Company responsibility
User friendly product packaging to protect the customer
Particular attention was paid to preventing environmental contamination during the design of the packaging, to keep the strain on people and the environment as low as possible. Therefore, in 2008 the "lost packaging" (fermentable sack) was developed, which is broken down under anaerobic conditions.
The packaging material is produced from renewable raw materials and can be placed unopened into the fermenter. There, the material is completely fermented and in the process fully decomposes. The sealed bag dose ensures the highest level of protection for the user and means there is no need to dispose of the packaging.
The figure shows the decomposition of a fully fermentable BioEnergy packaging under anaerobic conditions.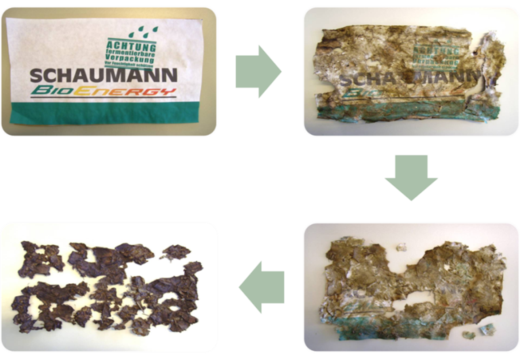 Figure: Fermentable packaging after 0, 1, 5 and 8 days in the biogas fermenter
Schaumann BioEnergy also offers sealed container dosing for liquid products as additional protection for the user. To do this, the highly concentrated solutions are dosed using a pump from the canister or IBC (intermediate bulk container), via a tubing system directly into the fermenter. This closed system prevents contamination of the local environment.
Usage of non-hazardous ingredients
Schaumann BioEnergy is always desirous of selecting ingredients for the products with the lowest toxicity and hazardousness for environment to prevent endangerment of customers and environment.